We
provide
the
complete
execution
of
construction
projects
Thanks to a combination of project management and construction services we can act as a general contractor and a project manager. We provide comprehensive project and technical management solutions as well as the construction of new buildings or the modernization and reconstruction of existing ones. We offer our services to investors and developers, as well as tenants and end users both domestic and foreign.
We have been operating in the construction market since 2012. We mainly work as a general contractor or project manager. Under our umbrella, we represent individual subcontractors and professionals involved in the successful implementation of the contracts. We are the sole point of communication for our clients to address their requirements during construction. We have centralized responsibility for the services provided and the whole project covered by liability insurance with a limit of performance of 100 million CZK per year.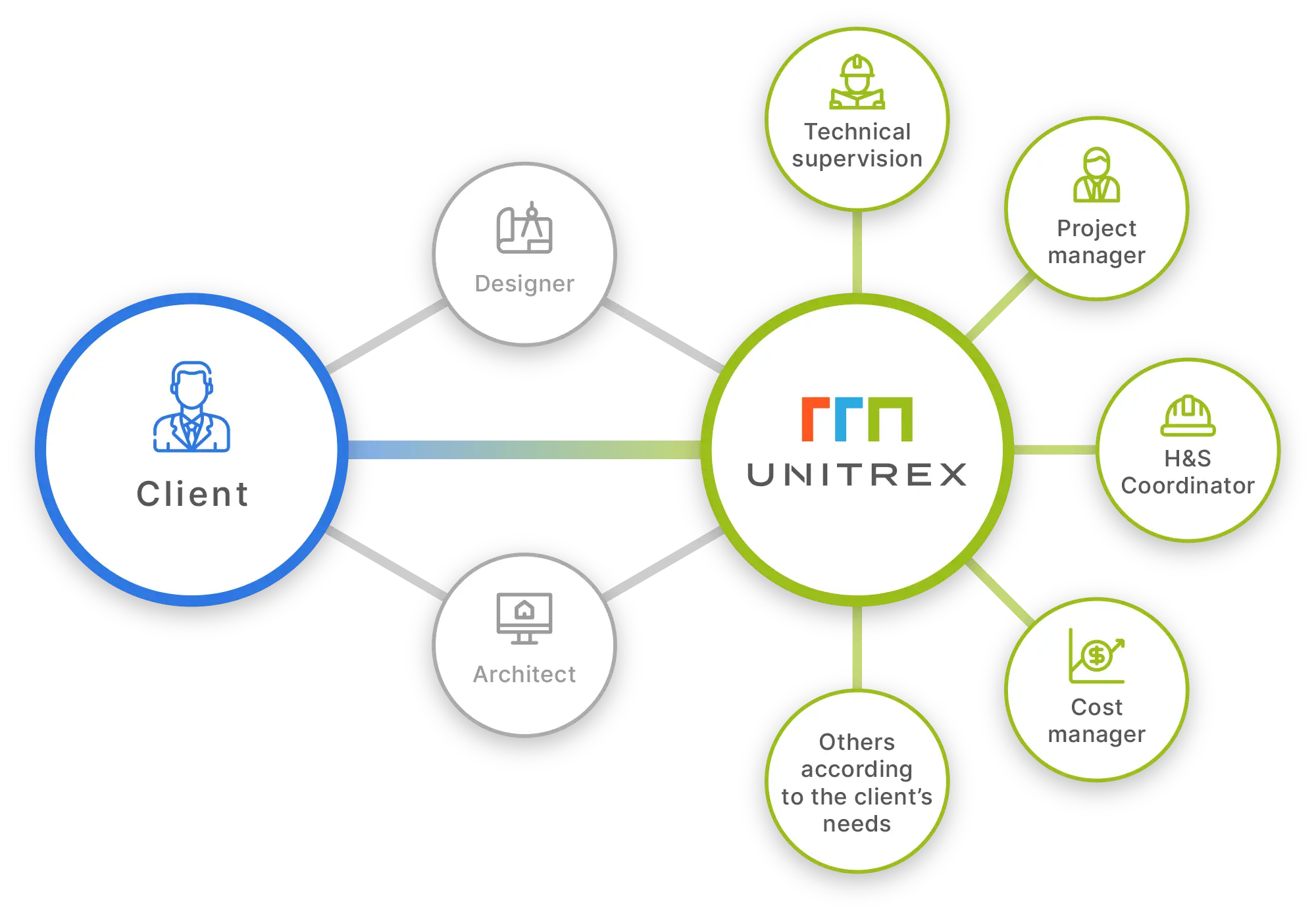 As a project manager, we provide a simple solution for our cients in terms of project and technical management including all its complexities. The services we provide are handled with central responsibility. With us you have one contractual relationship –one contractual partner for all communication, higher insurance coverage and a fixed price set in the Commissioning Agreement.
We provide project management for the entire construction project and will take care of activities related to the arrangement of planning permission or building permits. As a central manager, we coordinate the entire project and mediate communication between the planner, contractors, authorities and you so that you have as little responsibility as possible.
We operate as a technical supervisor providing control of the whole implementation according to approved technical documentation and take care of the complex administration of technical aspects of construction quality management. Throughout the construction process, we monitor the contractor to ensure that they adhere to all technical procedures and execute the construction to the highest quality.
We provide overall financial supervision preparing price budgets for each phase of the construction procedure throughout the entire process of preparation and implementation of the project, or the construction and monitoring of their compliance. We also provide budget consultation and suggest cost-saving solutions for the project alongside detailed itemized budgets.
Health & Safety supervisor
We provide the complete services of a Health & Safety supervisor as well as an FP technician. All construction participants are mutually coordinated to eliminate potential risks arising on site and health hazards to third parties during construction. We actively seek out the risks of all activities and keep each other informed of their impact.
As a general contractor, we provide a comprehensive turn-key solution for our clients. You can leave the pre-implementation phase, construction, and final commissioning to us. Thanks to our reliable network of permanent subcontractors, whom we hire for individual subcontracts and with whom we carry out our projects, you know exactly who is doing the work for you.
We offer processing of documentation for all project stages, i.e. design of the layout, documentation for zoning and construction proceedings, documentation for the implementation processes and documentation for the actual construction. The project management is carried out in cooperation between our architects and state authorities according to the client's requirements.
We communicate with state and local government authorities on behalf of our client as well as dealing with the pre-negotiation of applications in the context of zoning and building procedures, applications for zoning and building permits and decisions of all of the authorities concerned. We procure the final inspection and the consent of the building authority and any other relevant state authorities for the use of the building
Preparation of construction work
We provide cost estimates for the construction of projects of various scales. We thoroughly check the compliance of the project documentation with applicable legislation to avoid any consequent problems. We reliably coordinate the various construction teams and participate in site acceptance.
We offer complex turn-key or the partial deliverance of construction works and professionals according to the client's needs. We provide professional management and coordination of the construction, supply interior fittings, secure building approval and finally, permission for early use of the building or trial operation.
We provide a wide range of services – we operate both in construction management, managing and supervising entire projects, as well as a general contractor, preparing and executing construction projects. We also coordinate the construction of warehouse buildings, production halls or distribution centers and are involved in the preparation and construction of office and residential projects, shopping center projects or commercial units.
Logistics centers
Residential houses
Office buildings
Shopping centers
Family houses
Reconstruction